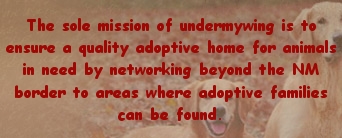 The focus of undermywing is dog and puppy transfer, rather than rescue. Several shelters and many individuals throughout New Mexico and adjoining states bring rescued dogs to undermywing for transfer via transport vans to responsible and trustworthy low-and-no-kill shelters in Oregon, Wyoming, and Colorado. Due to the focus of undermywing, far more animals can be saved from death row and more space is available in shelters for animals who find themselves needing the help only humans can provide. 

Spaying and neutering has now become an important focus of undermywing.  This promotes the best allocation of limited resources and maximizes the benefits we are able to provide. 

 As of November 2015,  over 600 dogs and puppies were transported out-of-state to forever homes.